The opening of the exhibition "Kobalt: Identity of Oficina Cobalto", integrated into the final project of the Master's Degree in Graphic Design and Editorial Projects of the student (Maria) Teresa Zagalo (Lima) took place last Saturday, October 23rd at 5:00 pm.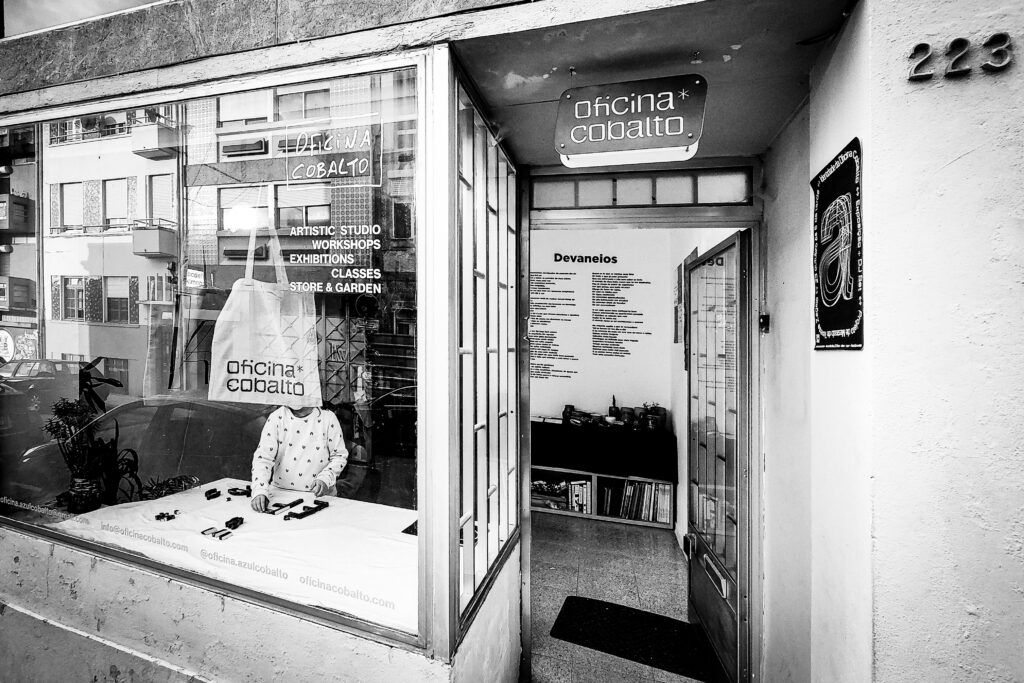 It was possible to see the new version of the identity for Oficina Cobalto:
Oficina Cobalto is one among many independent galleries, but what sparks its interest is the intention that goes beyond an art exhibition space. A place where different artistic variants interconnect, for the artistic community and for the public. Therefore, the brand must represent an entire community with communication elements that evoke its message and meaning, through the production of a functional language.

(excerpt freely translated from the press release email)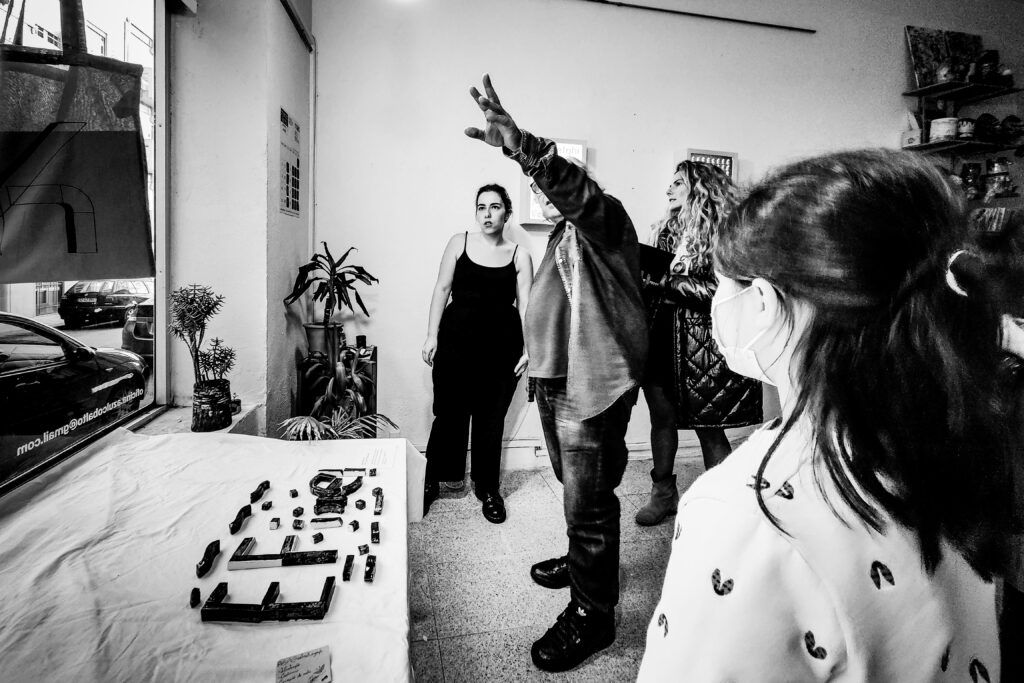 Teresa designed a custom font for the workshop. And for this, she produced a Variable Font with two axes, from which it is possible to explore the expression of neutrality based on its construction and modular inspiration.
Set in the contemporary national art scene and modernist design, this essay aims to link the functionality of a multipurpose space to ideologies of New Typography, whose theories are grounded in Modernism.

Die Neue Typographie became the fundamental guide for prolific designers in Central Europe. Jan Tschichold advocates the need to generalize design and printing practices through Elemental Typography. The designer should follow the purpose of the communication, elementary typography is sanserif and should exclude any use of ornament. The design practices are shown to be more economical and precise, suited to the function of the object. Functional design should also match the cross-cutting practicality in the typographic compositions of the artifacts.
Thus, Oficina Cobalto now has a complete and versatile typographic family designed through modular pieces, resulting from two variants: a grotesque (text) and geometric (display) that is already being used in the latest promotional materials as well as in the identity.
The exhibition (which will be on show at Oficina Cobalto until October 27, at Rua de São Brás 223 Porto) shows applications of the identity in posters and tote bags. But above all, it presents and explores the details of the typeface developed through sets of characters in lightboxes, ceramic pieces created from the typographic modules —which allow for a playful exploration of the work— and a demo (multimedia projection) where you can check the variable font in its interactive digital element.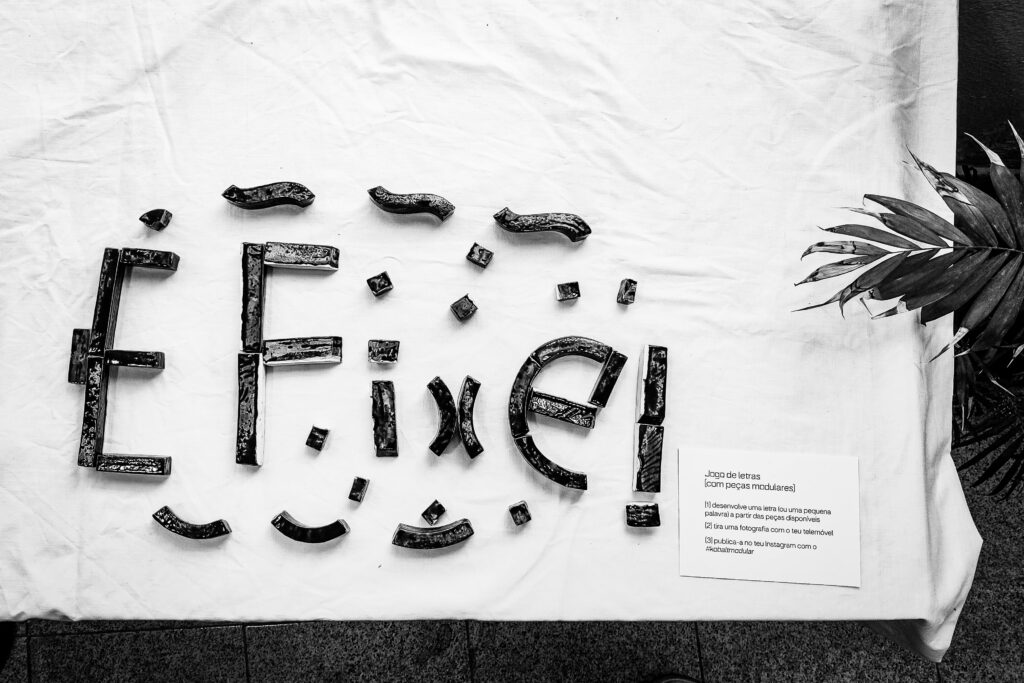 [Versão portuguesa abaixo / Portuguese version below]
---
A inauguração da exposição "Kobalt: Identidade da Oficina Cobalto", integrada no Projeto final de Mestrado em Design Gráfico e Projetos Editoriais da estudante (Maria) Teresa Zagalo (Lima) teve lugar no sábado passado, dia 23 de outubro às 17:00.
Foi possível ver a nova versão da identidade para a Oficina Cobalto:
A Oficina Cobalto é uma entre tantas galerias independentes, mas o que desperta seu interesse é a intenção que vai além de um espaço expositivo de arte. Um lugar onde diferentes variantes artísticas se interligam, para a comunidade artística e para o público. Portanto, a marca deve representar toda uma comunidade com elementos de comunicação que evoquem sua mensagem e significado, por meio da produção de uma linguagem funcional.
Teresa desenhou um tipo de letra personalizado para a oficina. E, para isso produziu uma Fonte Variável com dois eixos, a partir dos quais é possível explorar a expressão ou a neutralidade assente na sua construção e inspiração modular
Inserido no panorama artístico nacional contemporâneo e no design modernista, este ensaio pretende ligar a funcionalidade de um espaço polivalente a ideologias da Nova Tipografia, cujas teorias se fundamentam no Modernismo.

Die Neue Typographie tornou-se o guia fundamental para designers prolíficos na Europa Central. Jan Tschichold defende a necessidade de generalizar as práticas de design e impressão por meio da Tipografia Elementar. O designer deve seguir o propósito da comunicação, a tipografia elementar é sanserif e deve excluir qualquer uso de ornamentos. As práticas de design mostram-se mais econômicas e precisas, adequadas à função do objeto. O desenho funcional também deve corresponder à praticidade transversal nas composições tipográficas dos artefatos.
Assim a Oficina Cobalto possui agora uma família tipográfica completa e versátil desenhada através de peças modulares, que resultante deduas variantes: uma grotesca (texto) e geométrica (display) que já está a ser utilizada nos últimos materiais de divulgação assim como na identidade.
A exposição (que estará patente na Oficina Cobalto, até 27 de outubro de 2021, na Rua de São Brás 223, Porto) figura aplicações da identidade em cartazes e tote bags. Mas, acima de tudo apresenta e explora os detalhes do tipo de letra desenvolvido através de conjuntos de carateres em caixas de luz, peças cerâmicas criadas a partir dos módulos tipográficos — que permitem uma exploração lúdica do trabalho — e uma demosntração (projeção multimédia) onde se pode verificar a fonte variável no seu elemento digital interativo.